Eaton Gas/Liquid Separators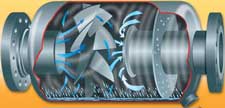 Type 30L, Low Profile and Vertical Downflow Separators Flanged Connections • Fabricated Carbon Steel or Stainles Steel Construction
High Efficiency
Like all Eaton gas/liquid separators, the Series 30L automatically removes 99% of all liquid and solid entrainment particles 10 microns in size or larger. And it does it with no moving parts to break or wear out. Series 30 gas/liquid separators perform to specification year in and year out with no required maintenance.
Operation
Moisture-laden gas enters the inlet of the separator where it is deflected through a unique CenpellarTM into a centrifugal motion. The entrained solids and moisture droplets are separated out by a reduction in velocity of the flow. Separated liquids and solids fall out of the gas stream below the exclusive Eaton Vortex Containment Plate (VCP) where they cannot be re-entrained. The VCP eliminates the need for the expensive, delicate baffles used in other separators and helps direct the clean, dry flow to the outlet of the separator. There are 10 different models available to match the needs of just about any application no matter what the flow direction or piping system orientation.
Type 30L Separators with In-Line Piping Connections
The Type 31-L separator is an in-line separator that can be installed horizontally or vertically for downflow applications. Models installed horizontally can be ordered with a sump and water gauge mountings. Horizontally and vertically installed models can be furnished with reduced size inlet and outlet flanges to accommodate higher flow rates in smaller pipelines with an acceptable pressure drop. In all, five different configurations are offered to meet exact application requirements. The Type 32-L is an in-line vertical upflow separator.