Bag Filter Systems for Liquid
Read More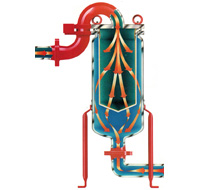 GAF Bag Filter Systems
GAF Filter Systems, the company that introduced the concept of liquid bag filtration has been leading the industry with innovative concepts and products for more than 30 years. Its reputation for excellence in design and manufacture of filter bags and pressure vessels is unparalleled.
GAF Filter Systems is focused on solving application specific filtration problems in partnership with its customers. Process industries, pharmaceutical companies and automotive suppliers are constantly seeking ways of improving product quality whilst minimising maintenance and downtime costs.
With a large selection of "off the shelf" bags and vessels, as well as custom-built products that are manufactured to customers individual specifications, GAF Filter Systems has the knowledge and experience that enables it to design liquid filter bags and vessels to suit the requirements of a wide variety of different industries.Today the GAF Filter is manufactured by the Eaton Corp.
GAF Filters / Hayward Strainers- Now marketed under the name Eaton-GAF Filters & Strainers .
Eaton-GAF The original and the best
Eaton have purchased the business of GAF Filter Systems, LOEFFLER Filtration and Hayward Filtration creating one of the Worlds largest filter companies.
Superseded vessel codes include:
RB-1A, RB-1AS, RB-1BS
RB-1AL, RB-1ASL, RB-1BSL
RBT-1A, RBT-1AS, RBT-1BS
RBT-1AL, RBT-1ASL, RBT-1BSL
RB-2AL, RB-2ASL, RB-2BSL
RBT-2AL, RBT-2ASL, RBT-2BSL
RBB-XAS, RBB-XAS, RBB-XBS
RBB-XAL, RBB-XASL, RBB-XBSL
Contact us for GAF Filter Accessories and Spare Parts