Replacement Filter Bags for Liquid
Read More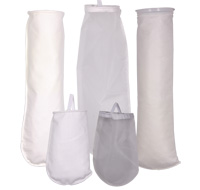 Setting New Technology Boundaries
Demanding or critical liquid filtration applications require high performance filtration media. This media may have to be more efficient, stronger, longer lasting or conform to specific standards. Sometimes, a unique combination of these qualities can be required.
Eaton GAF filter bags meet these stringent media requirements. The convenience and economy of liquid bag filtration is now feasible for filtration applications that previously required other, more expensive systems.
Change the way you've been thinking about filter bags...and explore the range of filter bags described in this catalog. You may find solutions to your most difficult filtration challenges here. Today's bags are capable of performing in applications that, in the past, required more complex and expensive filtration systems.
After you have finished reading about these special filter bags, contact us. Because demanding or critical applications can be complex, an Eaton Applications Specialist is available to perform a no-obligation analysis of your process. Learn how one of these high performance filter bags can work in your system, whether your system already exists or is in the design stage, and the improvements you can expect…before you make any commitment.
PROGAF™, ACCUGAF™, LOFCLEAR™, DURAGAF™, HAYFLOW™ CLEARGAF™,SENTINEL®, SNAP-RING® and BANDSEAL™