Replacement Filter Bags for Liquid
Read More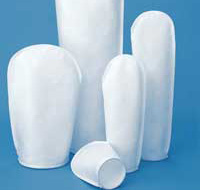 Snap Ring Filter Bags
Sewn Construction Filter Bags
For over 30 years, SNAP-RING® filter bags have been critical components of filtration systems worldwide. The wide range of media materials, affordable price, and reliability of construction have made them the ideal choice for applications in nearly all process industries.
Superior, Consistent Quality SNAP-RING filter bags are manufactured to the highest standards of fabrication available. Materials must satisfy stringent specifications for filtration performance and media purity. Production under 9001:2000 quality systems results in order to order, year to year, reliability and repeatability. Heavy duty sewing thread and the metal seal ring are produced to Eaton specifications and guaranteed to be silicone free.
Adaptable to Most Vessels SNAP-RING filter bags are designed and constructed to fit the widest range of filter vessels, whether from Eaton or from another supplier. Special geometries are available to fit most non-standard housings.
Application Versatility SNAP-RING filter bags are available with four different ring plastics, six different media materials and eleven micron ratings. SNAP-RING filter bags can handle corrosive chemicals, aggressive solvents and even elevated temperatures. With this many choices, the right Eaton filter bag is available for every application.