Replacement Filter Bags for Liquid
Read More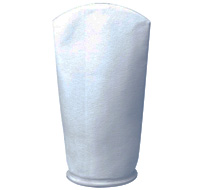 DuraGAF Extended Life Filter Bags
Extended Life Filter Bags Can Improve Your Filtration Process and Save You Money
DURAGAF™ Filter Bags for High Performance DURAGAF filter bags represent the state-of-the-art in needled felt bag filter media. Their unique structure delivers equal filtration performance with lifetimes 2-5 times longer than ordinary felt media. The result is reduced operating costs due to lower bag consumption, downtime, change-out labor, storage and disposal.
Why DURAGAF™ Filter Bags Last Longer DURAGAF filter bags are available in two extended life materials: polypropylene (code POXL) or polyester (code PEXL). These two materials utilize a fiber blend with a finer fiber diameter and a higher weight than ordinary media. The result is a dramatically higher dirt holding capacity at the same efficiency and differential pressure. Processes run longer and need fewer bag changes with DURAGAF filter bags.
All-Welded Construction for Superior Performance All DURAGAF filter bags feature 100% welded fabrication and the Eaton SENTINEL® seal. This construction eliminates the bypass which can occur in standard sewn filter bags. Eaton proprietary welding technology produces a super-strong seam that will stand up to even the most demanding applications without failure.
No Downstream Fiber Contamination All DURAGAF filter bags are manufactured with a proprietary downstream surface treatment to prevent fiber migration. A special finish is obtained by glazing the surface, melting fibers together to form a tight, secure downstream matrix. In addition, the weld seams are heat bonded to eliminate loose fibers which might result during fabrication.