Replacement Filter Bags for Liquid
Read More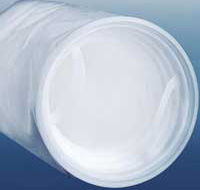 ProGAF Bag Filters
The Filter Bag that Works Better Than a Filter Cartridge
PROGAF filter bags bring a new, high-performance alternative to applications requiring absolute filtration. PROGAF's progressive density depth filtration delivers high efficiency (up to 99.98%) and long life with all the convenient features of a bag filter. In comparison with other filtration technologies, PROGAF delivers lower operating costs while retaining the ease of change-out typical of a bag filter.
Welded Construction for Superior Performance All PROGAF High Performance Filter Bags feature 100% welded construction for better filtration performance. This construction ensures that nothing bypasses the process media through holes in the fabric created from sewing the material. HAYWARD's proprietary welding technology produces a super-strong seam that stands up to the most demanding applications.
PROGAF™ Filter Bags Seal Better in Critical Applications The patented SENTINEL provides a flexible, chemicallyresistant seal which adapts to any filter vessel. This unique design employs a pressure-activated sealing lip which responds to increases in differential pressure. As the pressure increases, the seal of the ring improves, guaranteeing bypass-free performance over all ranges of pressure, temperature and micron rating. The elevated bag handles make removal quick and easy.
Filtration Efficiencies of Up to 99.98% PROGAF High Performance Filter Bags have performance efficiencies of up to 99.98%…true absolute filtration. In many filtration applications of one micron and above, PROGAF Filter Bags can replace expensive cartridge filtration systems and provide better performance while saving time and money. Ask your Eaton Filtration Specialist for "real world" documented case histories, illustrating how PROGAF Filter Bags have performed in applications similar to yours.