Replacement Filter Bags for Liquid
Read More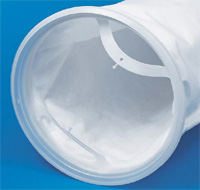 Lofclear Bag Filters
Cost Effective Filter Bags for Absolute Filtration Applications
LOFCLEAR filter bags now make absolute filtration viable in many applications where only standard bags could be used due to cost constraints. Made from 100% pure polypropylene materials compliant with food requirements, LOFCLEAR filter bags contain no leachables or lubricants such as silicone oils. In addition, their excellent oil adsorbancy makes LOFCLEAR filter bags ideally suited to the oil removal needs of the paint and coatings industries.
Two Series to Match Filters to Applications LOFCLEAR filter bags are available in two styles, Series 100 and Series 500. These two styles make it possible to match the requirements of a wide range of applications, depending on the needs for efficiency and long life. The Series 100 filters use a multi-layer construction for applications where high efficiency is of prime importance. The Series 500 filters utilize a patent pending pleated construction to increase surface area for applications requiring high dirt capacities and long life.
Perfect for Removal of Gelatinous Materials LOFCLEAR filter bags have proven to be highly effective in the removal of gelatinous contaminants. The combination of deep microfiber filtration media breaks up gels and retains them within the media depth. These features prevent surface blockage and breakthrough typical of standard filter bag materials.