Replacement Filter Bags for Liquid
Read More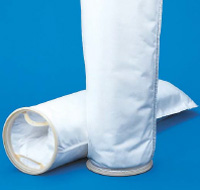 AccuGAF Filter Bags
ACCUGAF™, Filter Bags for Applications Demanding Efficiency >99%
The ACCUGAF filter bag pushes the boundaries of bag filtration technology far beyond traditional designs. With efficiencies >99%, each ACCUGAF model provides cost-effective filtration solutions for demanding applications. The five models assure users that particles from the range of 1.25 microns can be removed effectively while delivering long service life.
FDA Compliant Materials ACCUGAF Polypropylene filter bags are constructed entirely of materials compliant to FDA requirements for materials in contact with food. All materials conform to US Code of Federal Regulations 21 CFR Part 177 and EU Directive 2002/72/EC.
Applications Although ideally suited for food and beverages, ACCUGAF filter bags will deliver equal performance in a wide range of demanding applications such as: • Beer, wine, spirits and beverage filtration • Fine particle removal in parts cleaning • Final filtration of lacquers • Final filtration of vinegar • Activated carbon removal in process systems • Final filtration of hydraulic oils and lubricants.