Replacement Filter Bags for Liquid
Read More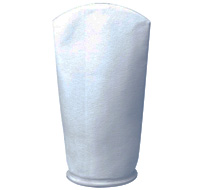 ClearGAF Filter Bags
CLEARGAF™ Filter Bags Fully Compliant and Approved for Food and Beverage Service
CLEARGAF filter bags are the first and only series of filter bags specifically designed for the requirements of the food, beverage and pharmaceutical industries. Comprised of several filter styles, CLEARGAF is the only filter bag to deliver:
CLEARGAF™ Filter Bags for Direct Contact with Foodstuffs Filter Bags are widely used for the filtration of fluids that are directly or indirectly used as foodstuffs. In most applications, these types of filters must be carefully selected to ensure that foodstuffs are not contaminated from their use. Most materials used to manufacture disposable filters, including bag filters and cartridge filters, are polymers, which are generally selected for their purity in the application. Many of these materials, however, contain materials that can diffuse out of the plastic into the process fluid. This effect, known as migration, can lead to foodstuff contamination. For this reason, the use of polymers is often limited to products such as CLEARGAF Filter Bags, which are made from materials that have been documented as safe in food applications. CLEARGAF Filter Bags conform to both US FDA and European EC regulations. The difference between the FDA and EC regulations is one of degree. FDA regulation limits on migration are proportional to weight. EC limits, however, are based on area, and must be demonstrated in tests on finished articles. For heavy material, the EC limits can be up to 50 times more restrictive than the FDA ones.
Independent Verification You can be sure all CLEARGAF Filter Bags meet these requirements, because they have been evaluated, tested and certified for EC migration performance by an independent food research institute. CLEARGAF Filter Bags are also made only from materials listed in the US Code of Federal Regulations Title 21 Part 177. No other materials are added during fabrication.