Bag Filter Systems for Liquid
Read More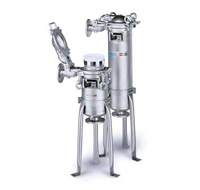 Eaton GAF TOPLINE™ Bag Filter Housings
The best filter housing for the most demanding applications.
A TOPLINE is the finest single bag filter housing available. From its high performance design to its heavy duty investment-cast components, everything about TOPLINE is simply the best.
Side inlet, flow through the top design results in a minimum headroom of unfiltered liquid for easy bag change-out as well as providing optimum sealing of the filter bag.