Bag Filter Systems for Liquid
Read More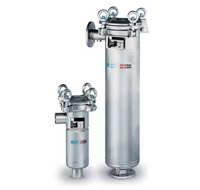 Eaton GAF SIDELINE™ Bag Filter Housings
Mid-priced filter housings for most applications.
A SIDELINE vessel from Eaton is a full-featured investment-cast filter vessel. A bead, not sand, blasted finish that makes cleaning easy and a cover that can be easily adapted to different opening directions are among SIDELINE's many value added features.
With SIDELINE you can take advantage of all of the benefits of stainless steel at a carbon steel price. Even if your process doesn't require stainless steel now, you can take advantage of stainless steel's superior corrosion resistance and consistency of performance.