Bag Filter Systems for Liquid
Read More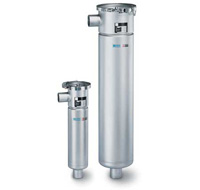 Eaton GAF ECOLINE™ Filter Housings
Lightweight, economical filter housings.
For cost sensitive applications, you can now take advantage of an ECOLINE stainless steel vessel from Eaton at a price that compares to carbon steel. Even if your application may not now require stainless steel, you can still take advantage of the superior corrosion resistance and consistent performance you'll get over the years.
The ECOLINE saves operating costs, too, with its simple, easy to operate V-clamp closure that makes bag change outs quick and easy.