Bag Filter Systems for Liquid
Read More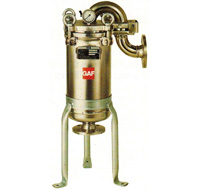 Original RB-1 & RBT-1 Stainless Steel GAF Filter Units for Liquid.
Original GAF Bag Filters for Liquid.
GAF Filter Systems , the company that introduced the concept of liquid bag filtration has been leading the industry with innovative concepts and products for more than 30 years. Its reputation for excellence in design and manufacture of filter bags and pressure vessels is unparalleled.
Codes include:
RB-1BS (304 Stainless Steel, 01 size bag filter)
RB-1BSL (304 Stainless Steel, 02 size bag filter)
RB-1AS (316 Stainless Steel, 01 size bag filter)
RB-1ASL (316 Stainless Steel, 02 size bag filter)
RBT-1BS (304 Stainless Steel, 01 size bag filter)
RBT-1BSL (304 Stainless Steel, 02 size bag filter)
RBT-1AS (316 Stainless Steel, 01 size bag filter)
RBT-1ASL (316 Stainless Steel, 02 size bag filter)
Contact us for GAF Filter Accessories and Spare Parts