Bag Filter Systems for Liquid
Read More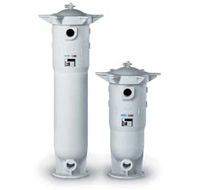 Eaton GAF POLYLINE™ Filter Housings
Rugged, all plastic housings with a choice of PVC, CPVC, PPL or PVDF construction to meet the needs of all ultra-pure or corrosive applications.
POLYLINE filter housings have no metal components to rust, corrode or contaminate the process media. Housings are available for size 01 or 02 filter bags (PVDF 02 only).
With a POLYLINE housing you get extra features at no extra cost such as a vent/bleed valve installed on the housing cover and an integral mounting flange for rock solid installation without the need for support legs. The two bottom pipe connections are interchangeable as outlet or drain, allowing easy modification to in-line or loop piping arrangements to accommodate any installation design.