Pipeline Strainers for Liquid
Read More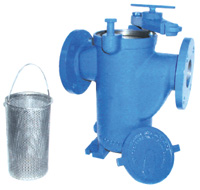 Model 72 Simplex Basket Strainers or Pipeline Strainer
The Eaton Model 72 Simplex Strainer has been the industry standard simplex basket strainer for over 75 years. It's perfect for industrial and commercial applications where the line can be temporarily shut down for strainer basket cleaning or changeout.
A reason for its popularity is the unusually large basket capacity. The free straining area is at least 6 times the cross sectional pipe area (even more in many sizes). No tools are needed to open the cover. The quick opening, swinging yoke can be disassembled and the basket removed in seconds. On sizes 4˝ and larger, a special cover clamp is provided to distribute the seating pressure and to insure positive seating of the cover.
Another feature is a threaded drain on every size strainer (fitted with a plug). This can be used as a backwash connection, if desired. Sizes 2˝ and larger are provided with legs for bolting to the floor for rock solid installation.
Wall thicknesses are exceptionally heavy. We have not stinted on weight to save material costs. The basket seats are precision machined to give a tight seal and prevent any material from by-passing the basket. The Eaton Model 72 Simplex Basket Strainer is a top quality, heavy duty unit designed to stand up to the most demanding of applications. There is simply no better simplex basket strainer made.