Pipeline Strainers for Liquid
Read More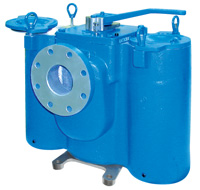 Model 53BTX Duplex Strainer or Pipeline Strainer
No-Hassle Strainer Basket Servicing Eaton duplex strainers remove dirt and debris from pipelines and protect sensitive system components. The Model 53BTX, features a design that makes strainer basket servicing a no-hassle operation. No more ˝race against the clock˝ during basket servicing to get the job done before the basket chamber overflows with fluid. The Model 53BTX keeps the chamber dry during service. This gives you time to clean or replace the strainer basket without ever having to worry about leakage and overflow. And…without overflow, there's no need to clean up after servicing the strainer basket. The Model 53BTX is simply a better way to work.
A Better Duplex Strainer Design A unique flow diverter valve cartridge in the Model 53BTX isolates the two strainer basket chambers and prevents fluid bypass. An easy-to-turn handle operates the cartridge and diverts the system flow from onechamber to the other—the flow in the pipeline is never shut off. When a strainer basket needs to be cleaned, the lever handle is turned to take it out of service and to divert the flow through the other chamber. The position of the handle clearly indicates at all times which chamber is in service.
No special tools are needed to access the strainer basket for cleaning. The chamber is first drained and then the cover is lifted and swung clear of the chamber opening. The dynamic diverter cartridge seals prevent fluid bypass into the out-of-service chamber—making for easy, hassle-free strainer basket servicing.
A Better Flow Diverter Cartridge The heart of the Model 53BTX is the unique flow diverter cartridge that features a patent pending, highly dynamic sealing system on the diverter balls that ensures exceptionally long seat life and positive sealing. This design works so well that there is no need for manual internal or external ball support adjustments—and the low operating torque means the strainer can be operated with an easy-turn lever handle. A gear box is not needed.
A double sealing system on both the upper and lower stems guards against any possible leakage. Special reinforced polymer seats are used for extended service life. Should cartridge service become necessary, it's easy to accomplish. Just remove four bolts and the cartridge comes right out through the top of the strainer. There's no need to take the strainer completely apart or to remove it from the line.